Every team in major league baseball has a pipeline of minor league players who get ranked as prospects. Some are known throughout the league and some are only known in their organization.
---
For Rangers fans there are names that everyday fans have heard of.  They are only known because of an appearance in the bigs leagues. Names like Jose Trevino, C.D. Pelham, Arial Jurado or Connor Sadzeck.
For the more informed Ranger fan, there are names known because they rank at the top of the organization.  Names like Leody Taveras, J.P. Martinez, Joe Palumbo, Cole Wynn or the top ranked prospect Hans Crouse.
Now let's talk about the names you have never heard of. There are prospects in every teams system that nobody really knows. These players are on the verge of breaking out. If they perform as expected by scouts, they could climb the rankings and become a top prospect.
Here is a list of 10 names to watch for… (No particular order)
JONATHON ORNELAS 3B– drafted in the third round of the 2018 draft out of Glendale, AZ. Ornelas spent the summer playing for the AZL Rangers rookie team. In 48 games he hit .302 with 3 HR's and an OBP of .389. Expect him to start out this year at Spokane after an extended spring training. If he performs well then Hickory is where he should finish.
TYLER PHILLIPS SP– drafted in the 16th round of the 2015 draft out of New Jersey. Phillips has had ok numbers since being drafted, but had a very good 2018 between Hickory and Down East. He went 12-5 with a 2.64 ERA in 23 starts last year. Phillips currently ranks just outside of the Rangers top 10 prospects. Another year like 2018 and he not only will reach the top 10, but possibly move into MLB's top 100. Phillips should start at Down East and could end up at Frisco.
SHERTON APOSTEL 3B– came to Texas as the PTBNL in the Keona Kela trade. The 19 year old is a big kid at 6'6 feet tall. Between 2016-18 he has played in 162 games. He has hit .248 with 18 dingers. His power is very projectable. He was impressive in fall instructs. He has a great approach. I imagine he will start the year at Spokane.           Watch this VIDEO
JASON BAHR SP– acquired from San Francisco along with Austin Jackson and Cory Gearrin in a move to dump salary for the Giants. Bahr was the key to deal. Jackson never played a game for the Rangers and was released. Bahr was drafted in the 5th round out of the University of Central Florida. He has a career minor league record of 13-10 with a 3.52 ERA. He misses a lot of bats. He has 171 K's in 152 innings. Bahr should begin at Down East, but Frisco is a real possibility.
TYREQUE REED 1B– drafted in the 8th round of the 2017 draft out of a community college in Mississippi. Reed has impressed with his power. His swing is compact and when he makes contact he drives the ball. In a 132 minor league games he has batted .289 with 23 HR's. Reed played 2018 in Hickory. Reed should start out at Down East but could possibly begin at Hickory.
DEMARCUS EVANS RP– drafted in the 25th round out of Petal, MS in 2015. The 22 year old is a strikeout machine. Evans has played pro ball for 4 years and has struck out 269 batters in 182 innings. He also saved 9 games for Hickory in 2018. Evans is 6'5 and throws hard and can touch 100 mph. He played in the AFL this fall and made the All Star team. You can watch him in action in this VIDEO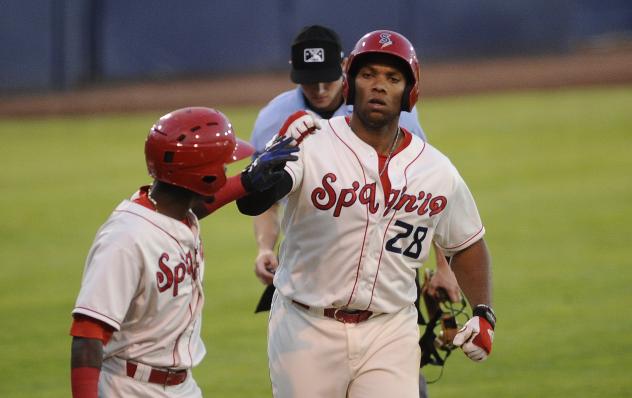 CURTIS TERRY 1B– drafted in the 13th round of the 2015 draft. Terry is out of Lawrenceville, GA. Terry struggled his first couple of years in pro ball, but broke out this year after repeating Spokane. He made the Northwest League Allstar team after hitting .337 in 67 games with 15 HR's. Terry should make the move to Hickory this year which would push Reed up to Down East. There is also a chance they switch since Terry is older.
YERRY RODRIGUEZ SP– the 21 year old was signed as a free agent out of the Dominican Republic in 2016. He has been stellar and under the radar. He spent his first two years in the Dominican Summer league before coming to the states last year. Between the AZL Rangers and Spokane last year he was 5-2 with a 2.86 ERA. His overall minor league stats with 30 starts is 10-5 with a 2.63 ERA over 119 innings. Watch him in this VIDEO
JAX BIGGERS SS– drafted in the 8th round out of the University of Arkansas in 2018. Biggers is originally from Missouri City, TX. He lead the Razorbacks in hitting in 2017 and was 7th in the SEC. He played 2018 in Spokane. He hit .260 in 39 games. Biggers has hit everywhere since high school so I expect him to hit well. He is definitely a name to keep an eye on. (Remember that Kinsler was a 17th round pick out of college) Biggers should start in Hickory.
JOHN KING SP– drafted in the 10th round out of the University of Houston in 2017, the left-hander had Tommy John surgery a month after being drafted. He missed most of 2018 recovering and pitched only 4 innings. He was impressive in fall instructs and really turned heads. I imagine he will start in extended spring training and then Spokane. You can watch him in this VIDEO
Spring training is around the corner and now you have your "Watch List". Take these names and keep an eye out for them. If any of them make a splash, you can say you first saw them here.
---
Featured Image: Spokane Indians